Master Brian Marsh – 4th Dan (Sa Bom Nim)
Certified Sr. Instructor
Brian Marsh began his Tang Soo Do training in the 1989 in Butner, NC along with his father (Master Ken Marsh) and 2 brothers (K.J. & Matt).  Brian was awarded Black belt (1st Dan) by Grandmaster Jae Joon Kim in 1992. At the age of 11 Brian was promoted to 2nd Dan in 1993. He was in and out of Tang Soo Do for the next 14 years. He served 6 years in the US Air Force, got married to his high school sweet heart and started a family. In Nov. 2007 Brian joined Cary Tang Soo Do under the tutelage of Master Marsh. He has since tested for his 3rd Dan with Grand Master Saul Kim in 2008. And then promoted to Master Rank (4th Dan) in November of 2011 by Grand Master Boliard. Master B. Marsh has always trained under the "It's not able the belt" ideology and more about furthering oneself to be a better person today than you were the day before.
Master Alden Galvanek – 4th Dan (Sa Bom Nim)
Certified Sr. Instructor
Alden Galvanek came to Cary Tang Soo Do after studying several martial arts styles, including; Tae Kwon Do, Kung Fu, Krav Maga, Kyokushin and Jeet Kune Do in his journey up the mountain of martial arts.  After spending 8 years studying and searching for the right martial arts style, Mr. Galvanek was pleased to discover Master Ken Marsh teaching Tang Soo Do in Cary, NC.  Mr. Galvanek has been training under the tutelage of Master Ken Marsh since he moved to North Carolina in 2005.  After receiving his 1st Dan from Grand Master Saul Kim, the son of Grand Master Jae Joon Kim, in August, 2009, Mr. Galvanek diligently trained and attained 2nd Dan in 2010 and was promoted to Instructor by Master Ken Marsh.  Mr. Galvanek was promoted to 3rd Dan by Grand Master Boliard, of the Musa Kwan Tang Soo Do Federation in April, 2012.  Most recently, Mr. Galvanek had the honor of testing for 4th Dan, by Grand Master Boliard in December 2014.  Mr. Galvanek believes in using Tang Soo Do to forge virtue and character.  Through hard work, dedication, mastery of the body, mind and spirit, we can all become the best versions of ourselves we can be. Tang Soo Do, having many of the same principles, is a wonderful forging method to achieve this personal growth.    
Mr. Thomas "HAP' Wiggins – 3rd Dan (Bo Sa Bom Nim)
Certified Instructor
Mr. "Hap Wiggins began training in Tang Soo Do at the age of 6 with his mother and his brother. He achieved the rank of Ee dan by the age of 14, after which point he took a 12 year hiatus from formal training, but never lost his interest or focus on the martial arts. He briefly studied judo, kendo, wing chun, and an entire host of martial arts films, but rediscovered Tang Soo Do at the Cary Tang Soo Do school under Master Ken Marsh, under whose tutelage he received his third dan. Hap currently trains and teaches at Cary Tang Soo Do."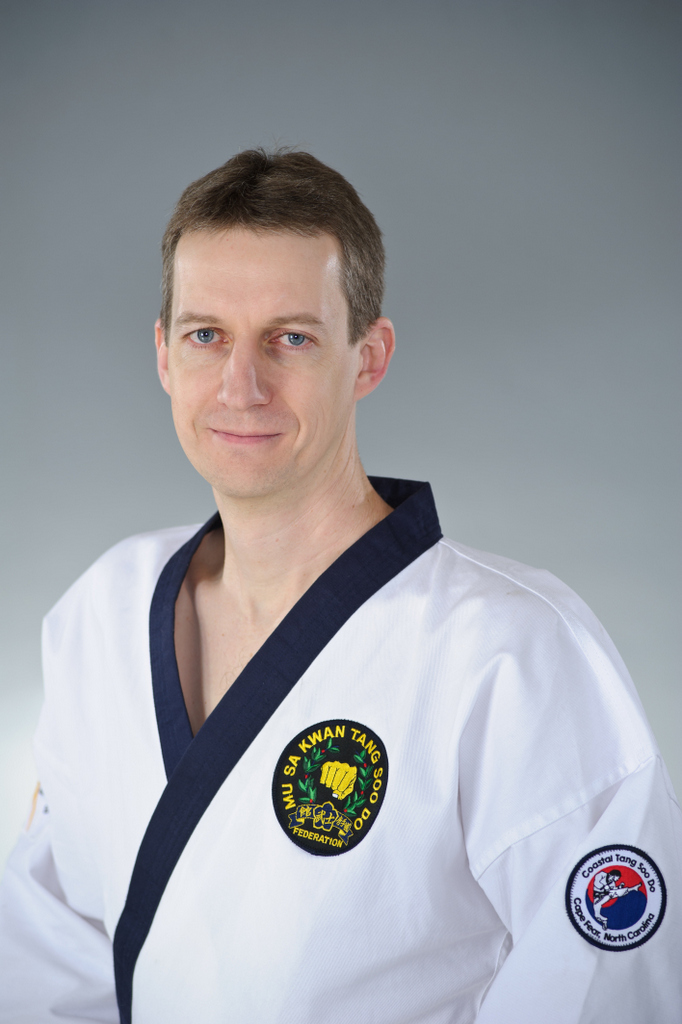 Mr. Mark Heinze – 2nd (Kyo Sa Nim)
Certified Instructor

Mr. Heinze has been training diligently with Master Marsh for several years.  He was promoted to 1st Dan by Grand Master Boliard in April, 2012 and attained his 2nd Dan from Bo Kwan Jang Nim Marsh in March, 2013.  Mark continues to train towards his next rank, while assisting other students better themselves.  He also trained with his son (JON, 2nd Dan) and values the family environment that Cary Tang Soo Do fosters.  Growth, dedication and positive reinforcement are some of the creeds that drive Mr. Heinze.  He imparts these principles to those students he works with.
Mr. Peter Bachmann – 2nd Dan (Kyo Sa Nim)
Peter Bachmann began his martial arts studies at Cary Tang Soo Do in 2008. His natural talent and ability to learn quickly help him excel in his  demonstration of flexibility and skill. , He continues to strive to improve his techniques,  individuality and abstract thinking assist him in the role of assisting others.
Mr. Michael Bachmann  – 1st Dan (Bo Kyo Sa Nim)
Michael Bachmann began his martial arts journey studying Karate-Do under the instruction of Hanshi ("senior master") Hiroyuki Tesshin Hamada of the Dai Nippon Butoku Kai organization. Michael stepped away from karate after attaining the rank of Kari Shodan. During his 20-odd years away, Michael found benefits in his career from the discipline, perseverance and self-control he learned in martial arts. Looking for a father/son activity that would also teach these life lessons, he found Cary Tang Soo Do. While overall physically challenging, Master Ken Marsh's training focuses on intentional, minimalist motions. This focus has actually improved the mobility and flexibility of Michael's injured knees. In 2016 at the age of 53, Michael tested and was promoted to 1st Dan. Master Marsh's attention to thinking and responding, instead of rote reacting, has been key. Seeking the tradition-based, life-long way of The Warrior, Michael's journey of learning and sharing continues.  Musa!
Ms. Ruth Sirkin  – 1st Dan (Bo Kyo Sa Nim)
Ruth's first experiences with martial arts were at various community centers and churches in California and Nevada, where she spent much of her early childhood. During high school, she became more consistently involved, beginning with Okinawan karate her sophomore year and training briefly in Cuong Nhu and Wado-Ryu in college. She has been training in Tang Soo Do since 2013 and is now ranked as a first-degree black belt . In addition to furthering her martial arts proficiency, Ruth is also pursuing a Master's degree in Analytics at NC State.